D-mannose Study For Urinary Tract Infections With MS Multiple Sclerosis Patients
We have been studying an informative medical article related to D-Mannose the treatment of Urinary Infections.
Open label feasibility study evaluating D-mannose combined with home-based monitoring of suspected urinary tract infections in patients with multiple sclerosis.
The Contributors :
Véronique Phé1,2 | Mahreen Pakzad1 | Collette Haslam1 | Gwen Gonzales1 | Carmel Curtis3 | Bernadette Porter4 | Jeremy Chataway4 | Jalesh N. Panicker1

1'Department of Uro-Neurology, The National Hospital for Neurology and Neurosurgery and UCL Institute of Neurology, London, United Kingdom. Website: Dept of Uro-Neurology
2'Pitié-Salpêtrière Academic Hospital, Department of Urology, Assistance Publique-Hôpitaux de Paris, Pierre and Marie Curie Medical School, Paris 6 University, Paris, France. Website: Pitié-Salpêtrière Academic Hospital
3'Department of Clinical Microbiology, University College London Hospital, London, United Kingdom. Website: Department of Clinical Microbiology
4'Queen Square Multiple Sclerosis Centre, The National Hospital for Neurology and Neurosurgery and UCL Institute of Neurology, London, United Kingdom. Website: Queen Square Multiple Sclerosis Centre
A little about D-mannose.
D-Mannose is a natural supplement that has long been used to treat the symptoms of urinary tract infections. D-Mannose is a sugar that is closely related to glucose. It is classed as a simple sugar as it consists of just one molecule of sugar. It does occur naturally in the body, as well as birch,beech and corn; however, many people also take an extra supplement, as it has been shown to have a number of health benefits.
The reason that it is believed to work with the urinary tract system, is because it is thought to block the e.coli bug bacteria from growing in the urinary tract. According to medical research the majority of urinary tract infections are caused by the E.Coli bacteria,some research says upto as high as 90%. As soon as this bacteria enters the urinary tract, it latches onto the cells, which then allows it to grow, resulting in an infection. Dmannose helps to stop and prevent UTI's by evacuating this harmful bacteria from the bladder.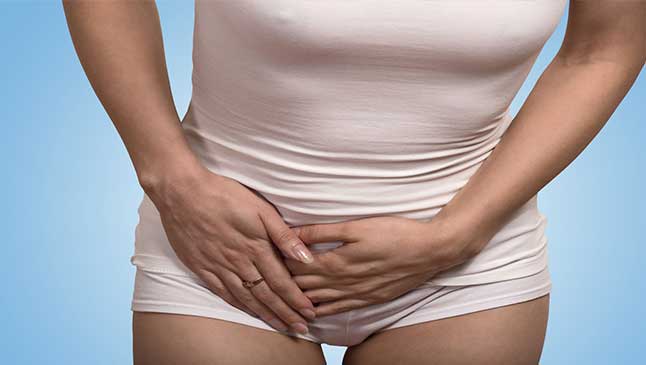 When you consume any food, or supplements that contain D mannose, your body will eventually pass this through the kidneys and into the urinary tract,when this amazing natural sugar arrives in the bladder the e.coli bug will be attracted to the d'mannose and stick to it like glue,then the next urination the dmannose with the e.coli bug will be flushed out of the bladder leaving it infections free,Simple but effective!.
The Study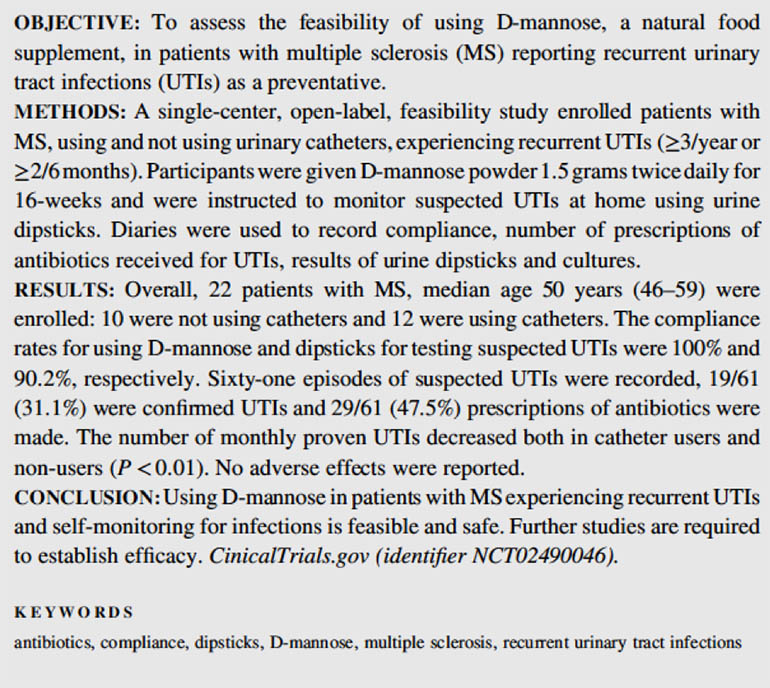 Although there is not a lot of research surrounding the treatment of urinary tract infections with the use of D-Mannose; this particular study looked at the use of D-Mannose in patients who suffer from Multiple Sclerosis.
People with Multiple Sclerosis often suffer from recurring urinary tract infections. 30 percent of those with the condition report a lower urinary tract dysfunction. Although it is not known why they occur more frequently in those who suffer from Multiple Sclerosis, but the limited research that has been carried out suggests that some problems could be down to incomplete bladder emptying, the use of a catheter, either intermittently or indwelling, and if you are female. It is one of the top three reasons that those with MS end up hospitalised and requiring treatment. It has been suggested though that recurring UTI in MS sufferers have been caused morbidity rates to rise, and has been suggested that it has a detrimental impact on your quality of life. However; there are actually very few medical options for preventing these infections.

Researchers Believe…
Researchers believe though that D-Mannose could be the answer, and could be a great way of preventing the nasty infections that have such a negative impact on their quality of life. Researchers studied two groups of people between February 2015 and August 2015; those who were using catheters and those who were not. Both groups had been diagnosed with Multiple Sclerosis for more than three months and both groups reported having recurrent urinary tract infections.
The patients were required to take our D-Mannose powder twice a day for sixteen weeks. During this time there must have been no other medication taken for the prevention of these infections. The participants were asked to self monitor, and were well informed of what symptoms to look out for prior to the study taking place. They were also educated on how to use urine dipsticks, and taught how to identify if there was leukocytes esterase and nitrites. The participants were also asked to keep a UTI diary, where they would write down any symptoms, dipstick results, and any antibiotics that they were prescribed. Even if they were diagnosed with a urinary tract infection, they were still required to carry on with the D-Mannose powder twice a day.
During the aforementioned months, there were a total of 61 suspected urinary tract infections, and 19 confirmed cases. A total of 29 prescriptions for antibiotics were prescribed in that time. So, did the D-Mannose powder prove to be successful? Well the results of the study suggest that not only is it safe for patients with Multiple Sclerosis to use D-Mannose powder without any safety concerns, but also the number of UTI's that were diagnosed and antibiotics prescribed was arguably much lower. It should be noted that many people who took part in the study had one or more factors that made them more prone to developing urinary tract infections.
Other Research
Like we have previously said, there is not a great deal of research surrounding the use of D-Mannose supplements and the treatment of urinary tract infections, all research that has in fact been carried out is definitely positive. In 2014, a study was published in the World Journal of Urology, where the use of D-Mannose was examined in 308 women who had a history of recurring UTI's. After these women had been treated for their acute urine infection with a weeks treatment of antibiotics, they then started taking D-Mannose powder for 6 months. During this time, the number of recurrent urinary tract infections was significantly higher in the women who did not take the supplement.
Another small study in the European Review for Medical and Pharmacological Sciences also found that those who took D-Mannose twice a day for three days, followed by once a day for ten days showed a significant improvement in their symptoms, UTI resolution and general quality of life. Those who were then given D-Mannose for a further six months following this treatment reported having a lower rate of recurrence than those who took nothing.
Because there are very few studies surrounding the use of D-Mannose, despite the research that has been carried out being very positive,diabetics are safe using d-mannose as it does not effect blood sugar levels.Babies,children and pregnant women have also used d-mannose with great success.
Possible Side Effects
Possible side effects of D-Mannose include bloating and loose stools. If you believe that you have a urinary tract infection, it is important to always see your GP. Although D-Mannose has been proven very successful at helping to relieve symptoms, it should not delay medical treatment.
Where to Buy
D-Mannose from this study is available to purchase from Naturesupplies and comes in tablets, chewable tablets and powder, so you can find the best one to suit you.
D Mannose Tablets & Powder
IncVat
D Mannose Tablets & Powder
IncVat
D Mannose Tablets & Powder
IncVat